back to Child Labor in the 1990s
Pictures of Child Labor in the 1990s (page 2)
Picture 13 (15)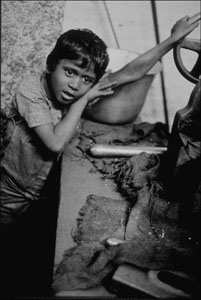 Picture 13 shows a metal worker in India, 1995. Description of picture 13: "Dozens of children and adults crowd into a small block building and make cups, saucers, and other tableware. The air is hot and dusty, filled with fine grit from aluminum, brass, or stainless steel. The noise levels exceed occupational standards." (16)
Picture 14 (17)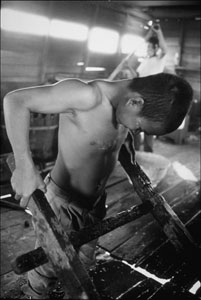 Picture 14 shows a fishing platform worker in Indonesia, 1995. Description of picture 14: "The child is working inside a fishing platform. He is helping to pull in fishing nets that have been dropped from the platform." (18)
Picture 15 (19)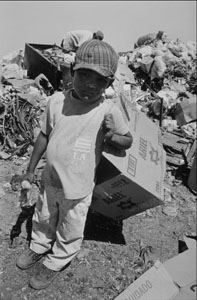 Picture 15 shows a garbage picker in Mexico, 1996. Description of Picture 15: "Out of desperation children fight vultures for food to eat. Dead animals and toxic wastes are dumped indiscriminately. A small girl came up to me with the head of a recently killed sheep. Around her, animal carcasses were rotting; at times the smell is almost unbearable.
In the shadow of the city a fire burns; the acrid air hangs like so many sorrows. At the edge of the fire, enshrouded in smoke, live the forgotten - small and larger communities of people - whose existence is ignored as a social anomaly. These communities scavenge for things they may be able to sell. Too poor to buy enough food, they supplement by scavenging in the rotting garbage." (20)
This must be analogous to the situation of the children picking through the garbage heap in the Jungle.
back to Child Labor in the 1990s